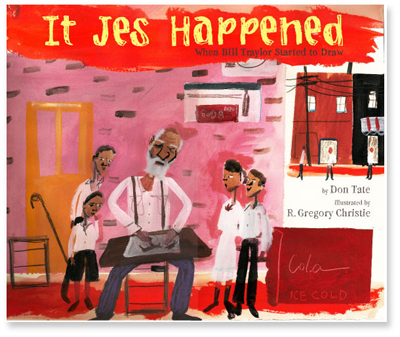 I had the pleasure of meeting
R. Gregory Christie
when
Don Tate
came in town to celebrate his first book as author (he's usually the illustrator): IT JES' HAPPENED: WHEN BILL TRAYLOR STARTED TO DRAW. There was a Bill Traylor exhibit at the High Museum of Art in Atlanta, and Don and 'Greg' were doing a book signing. We all had dinner the night before and I have to say, I flipped over Greg.
Not only is he a great guy - he's the real deal - an artist to the core. And I hope all those attending Illustrators' Day will get a peek at that when he talks.
We're so lucky that he's moved to Atlanta and is trying to make a difference in our community with his bookstore Gas-Arts in the
North DeKalb Mall
. Not only does he sell only signed books there, he hopes to turn it into a creative hub for the Atlanta art community.