by Illustrator Coordinator, Elizabeth O. Dulemba

*Whew!* The whirlwind is over, I had my annual coma/nap/collapse upon returning home. All said, our 2014
SCBWI
Southern Breeze
Illustrators' Day
and Springmingle Conference were great successes! Since ID is my baby (I'm Illustrator Coordinator), I'll start with that one...
Our speakers this year were spectacular and complimented each other beautifully:
Ruth Sanderson
(award-winning illustrator);
Loraine Joyner
(Art Director for Peachtree Publishing);
Cheryl Willis Hudson
(Just Us Books); and
Lucy Ruth Cummins
(Art Director for S&S/Paula Wiseman Books).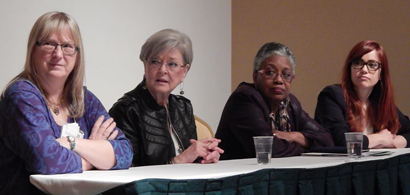 Ruth talked about storyboarding, which was basically a walk-through of how to create a book - fantastic! Loraine mentored twelve of our attendees on a three-month long project building up to ID and she went way above and beyond what any of us expected. Here's the gang with their finished products (click to see it bigger in a new window):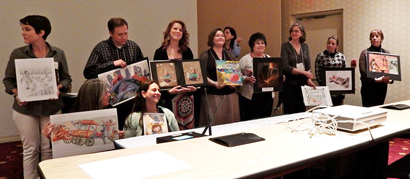 Cheryl talked about diversity in children's books, which was timely and something we all need to be more aware of. Lucy Ruth was hilarious as she walked us through the design process and gave tips for how illustrators can be on ADs radar more. I also gave my 15-minute soap-box about working with self-publishers - what to expect and ask for. We had a panel with our speakers, and once again did our Quickfire portfolio reviews, in which the panel spends two minutes on each portfolio giving knee-jerk feedback - SO informative and educational for everybody!
I've been going through the comments people wrote on their name tags (which they then turned in for the giveaway - a free copy of Ruth Sanderson's kickstarter anthology of her work -
GOLDEN DREAMS
- a real treasure), and the response has been just gushing about how much everybody enjoyed the day and really
learned
a ton, which is the whole point!
Photos by Prescott Hill, Asst. Illustrator Coordinator, used with permission.